Important Notice
While we have been holding regular rocket launches at the Connaught Range in Kanata for many years, we are currently on hiatus and trying to renegotiate access to the field.
---
Please note that you need to be at the P1 parking lot on time. We enter the base and the controlled access launch site as a group. If you are late, Range Control will NOT grant you access.
The Department of National Defence has rules in place for civilian access to the main base and its restricted areas. They require that the club enter the controlled access zone as a group. This is why we meet at the P1 parking lot on the right side of Rifle Road for 9:45 AM when summer hours are in effect and 11:45 AM when winter hours are in effect. The clubs Range Safety Officer (RSO) drives out first and signs the club into the controlled access area at the base's Range Control Office. As the RSO is signing in the club, the assembled members and guests drive onto the base and wait in the designated gathering spot along Perimeter Road. The RSO then leads the club into the restricted area of the base and onto the Grenade Range where launch operations take place.
Though we enter the controlled access area as a group, individuals may leave at any time. Please wait for the green light at the entry and exit gate before proceeding. Moving through the gate opening while the red light is on can damage the gate closing mechanism.
Summer launch hours are 10 AM to 4 PM and winter hours are 12 NOON to 4 PM. Summer and winter schedules switch on the same date that Eastern Standard Time comes into effect. We must all leave the base by 4 PM.
Launch operations start after the MANDATORY safety briefing and field setup.  After the safety briefing by the RSO, the Launch Control Officer (LCO) takes over the range. The LCO is responsible for calling whether the field is open for recovery or closed for launching.  Safety is one of our prime concerns so please note which club member is taking on the roles of the RSO and the LCO.
Directions:
Traveling along Highway 417, exit at Moodie Drive (exit #134), and go north to Carling Avenue. Turn left and follow Carling for approximately 3 km, then turn right onto Rifle Road. It is clearly marked with a government of Canada sign identifying it as the Connaught Range and Primary Training Centre. The P1 parking lot is on the right hand side of Rifle Road.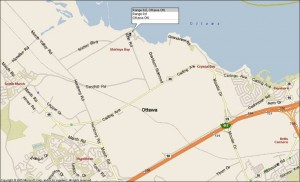 Launch dates are posted on the Launch Calendar, please look for updates from time to time.
Check our Groups.io Forum or Facebook Group for the Go/No Go two hours before the launch.