By Frank Uroda
Most people like me got started in rocketry as kids. I bought a few small rocket kits at the local hobby shop and went from there. When I was growing up, all there were was "Model Rockets". The Mid and High Power Rockets didn't exist yet but I had fun flying Model Rockets in local parks for years.
As I got older things began to settle down in my career and life in general. It was time to get back to my favorite hobby. Again I went to the hobby shop and bought more Model Rocket kits. They were as much fun as I remembered them to be! I spent the whole summer flying Model Rockets again.
As time went on, I continually wanted to fly bigger and bigger rockets to higher altitudes. I pretty much reached the end with what was available at my local hobby shop. Then one day I spotted a couple of different rocketry magazines and bought them. I was amazed to see that the hobby had grown considerably since I was a child. There were many more manufacturers of kits and motors out there then I ever dreamed. The rockets in the pictures were just awesome. That's what I wanted to do!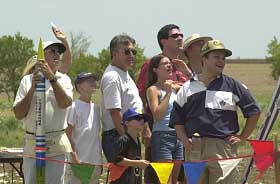 I wrote to several of the companies advertised in the magazines and asked how I could learn more about these larger, more powerful rockets. They all told me the same thing; join a local club! Well, I'd never joined a club before and wasn't really sure if that was for me. So instead of just joining through the mail, I went to one of their meetings just to see what it was like. To my surprise, it was a great experience! There was a bunch of people there that liked rocketry as much as I did. Many of them brought along their latest rocket project to show off and chat about. We talked for hours. I signed up that night.
Two weeks later, I went to the clubs launch at a field about a half hour from my house. I couldn't believe my eyes. There were people with rockets everywhere. Some were small models, others were huge! Some had sleek, futuristic designs and others were perfect replicas of older "real" NASA rockets. Some didn't look like rockets at all, but they all flew.
My first impression was that this was the friendliest bunch I ever met. Everyone was willing to explain their projects and were kind enough to answer my questions……Believe me, I had a million of them! The club provided all the launch equipment for all to use and even had a PA system announcing every flight. They had already filed all the dreaded paperwork with the FAA and everything was insured. This was a class act. Very well organized and very safe.
Two weeks later, the club had another launch at the same site. This time I brought my rockets and flew them all day. There were even a few rocket vendors on site. I bought a few new kits and couldn't wait to start building them.
I've been in this hobby now for over 18 years. In that time I've flown rockets ranging from A through M power. I still enjoy building and flying rockets of all shapes and sizes. My personal altitude record is over 14,000 ft! I've traveled all over the country attending major launches. I've seen and done things I would never have done otherwise. I have met many very nice people over the years. Many of them have become my close friends. I love this hobby!
How can you get started?
My advice to you is simple:
Read all you can. There are links on this site that will lead you to all the information you'll ever need.
Join one of the fine national organizations. Each organization has a specific specialty. It's all explained on the Are there clubs in my area? page of this website.
Join a local club. You will learn a lot from the great people in the club. The club handles much of the regulatory issues. The club has a launch site and all the support equipment you need.
Go to the club launches. You'll have a "blast"!